The Country Cobbler –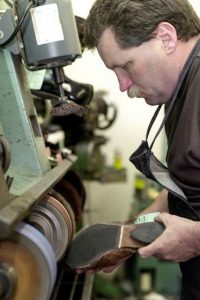 The Country Cobbler takes pride in the repairs performed on shoes, boots (including western, riding, casual and dress boots), dance shoes, handbags, belts, garments, dance taps, stretching and a variety of hand and machine sewing and miscellaneous work. All shoe repair is done on the premises. Quality shoe repair has been done on sight since June 1981. We use a variety of high quality materials including Vibram and Birkenstock (we are one of their authorized repair stores).
Our goal is to meet or exceed our customers expectations.
Please remember that if you don't see the repair you need on our list we still probably do it, Just give us a call if you have any questions